Warrington Youth Zone will officially open its doors this weekend with the party of the summer!
Young people and families are invited to the celebration between 10.45am and 3pm, which will see the charity kickstart its seven-day a week programme for young people aged between 7 and 19, or up to 25 for those with additional needs.
All the Youth Zone's activity spaces will be open, food will be served, live music performed and there will be special fun and games for all the family.
Following the grand opening event, the Youth Zone will host its first senior session, between 4pm and 10pm, for young people aged 12 and upwards. Other senior sessions will be held on Mondays and Wednesdays between 4pm and 9pm and Fridays between 4pm and 10pm.
Junior sessions (for young people aged 7 to 12) will take place on Tuesdays and Thursdays between 4pm and 8pm and Saturdays between 11am and 3pm.
On a Sunday, the Youth Zone will host a Springboard session between 11am and 3pm, for young people with additional needs and those who feel less confident. These sessions will be slightly quieter than junior and senior sessions.
Young people must be members to attend sessions from Saturday evening (after the grand opening celebration) and can sign up here. It costs just £5 for the year and then young people pay 50p each time they visit.
There will be over 20 activities every session with the Youth Zone's state-of-the-art facilities including a music room with a built-in recording studio, arts and crafts area, rooftop kick pitch, sensory room, four-court sports hall, performing arts studio, health and well-being room, fitness suite and boxing and martial arts gym.
Young people will also be able to engage with different projects such as the Buddy Up programme, Enterprise and Employability support and much more. Hot meals will be served for £1 and young people will also be able to learn how to cook various dishes themselves in the Youth Zone's training kitchen.
Warrington Youth Zone Chief Executive Dave McNicholl said: "We are so excited for our grand opening event and especially to open our doors seven days a week.

"This has been a very long time coming but we now have the building, the facilities and, crucially, an amazing youth work team that the young people of Warrington deserve. I'd like to pay a huge thank-you to the whole community for their support and, of course, our generous funders. Without them, this would all still be a dream but it is now a reality."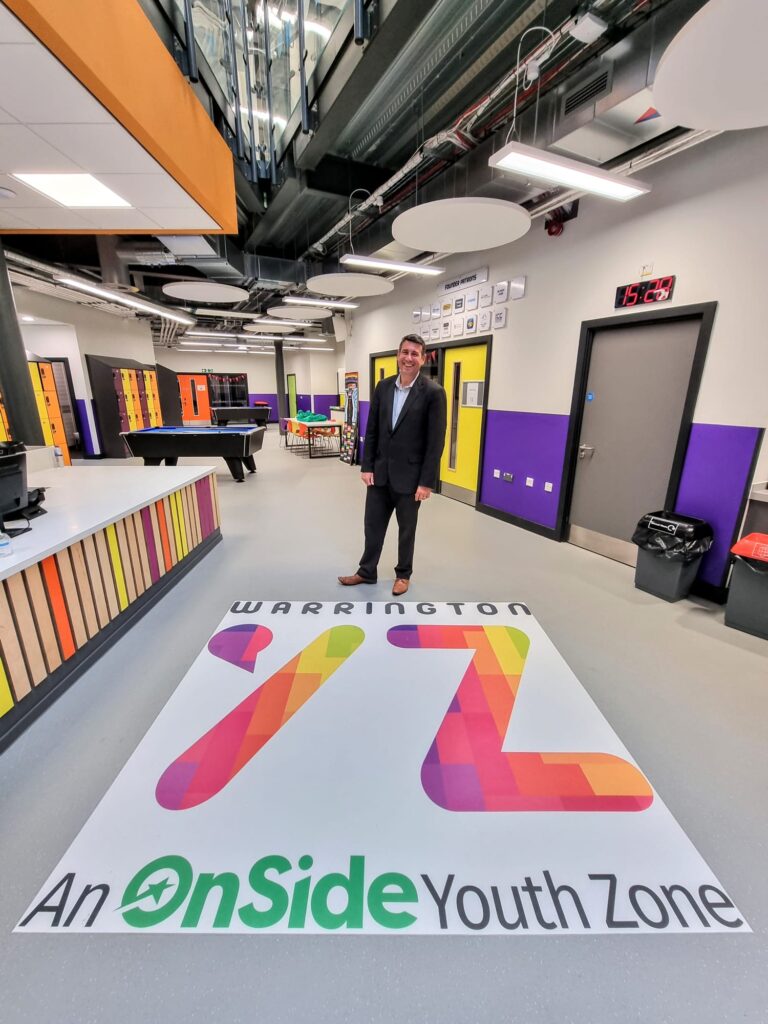 Amongst the facilities on offer is a giant climbing wall. The Youth Zone has named this 'Hoppy Heights' in honour of the late Nick Hopkinson MBE DL who sadly passed away last year.
Dave added: "Nick was the Youth Zone's biggest supporter and without him we simply would not have a Youth Zone. We are so sad that he will not be with us as we open our doors, he was one of the main driving forces behind Warrington Youth Zone, but he has left an incredible legacy. We are determined to do him proud and we're honoured to be able to name our climbing wall after him."