SOMEWHERE TO GO, SOMETHING TO DO AND SOMEONE TO TALK TO
OUR ACTIVITIES
With more than twenty activities happening every day at the Youth Zone, every young person aged 7 – 19 (up to 25 with additional needs) can find their place at Warrington Youth Zone.
⭐ Film & Multi-media ⭐ Art, Fashion & Design ⭐ Gym ⭐ Sports Hall ⭐ Health, Beauty & Well Being ⭐ Recreation Area ⭐ Cooking & Life Skills ⭐ Indoor Rock Climbing ⭐ Boxing & Martial Arts ⭐ Dance & Drama ⭐ Enterprise & Employability ⭐ Music ⭐ Outdoor Garden
BECOME A VOLUNTEER & MAKE A DIFFERENCE…
We really believe in the value and power of volunteering. Our volunteers are integral to our success and truly are part of the team. They are at the heart of what we offer to young people – that's why a culture of volunteering and an enhanced volunteering programme has been embedded into our ethos since introducing the programme at Warrington Youth Club.
Our passionate volunteers generously give their time to support and make a positive difference to the lives of young people across the country. The diversity of their backgrounds means they bring a wide range of skills, experiences, ability and interests.
Every one of our volunteers strengthen us as a charity at the forefront of exceptional youth work. We couldn't exist without our volunteers, and we wouldn't want to either!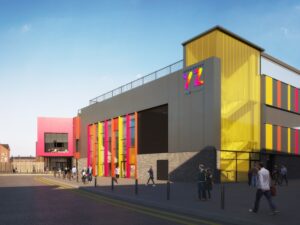 Inspiring young people to achieve
Warrington Youth Zone is a brand new youth charity which will build upon the success, values and legacy of Warrington Youth Club.
Warrington's new state-of-the-art Youth Zone will provide a safe, inspiring place for young people aged 7-19, and up to 25 for those with additional needs, to spend their leisure time. The Youth Zone will open 7 days a week, offering over 20 activities every night for just 50p per visit, providing thousands of young people somewhere, to go, something to do and someone to talk to.