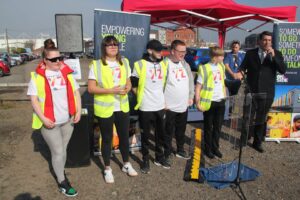 Young people from Warrington have unveiled the logo for their new OnSide Youth Zone to supporters, as they celebrated obtaining the land on which it will be built.
 More than 7,700 young people had their say on the design, which was developed by the Youth Zone's Young People's Development Group, supported by digital agency Carpe Diem.
The group, which is made up of Warrington Youth Club members, will make key decisions in the Youth Zone's development. They designed two logos before engaging with young people across the town who took part in a voting process.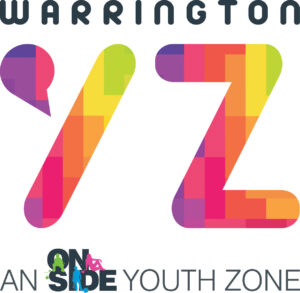 Due to open in 2022, Warrington Youth Zone will provide thousands of young people from the local area with somewhere to go, something to do and someone to talk to, and by doing so transform lives. 
Warrington YZ Chief Executive Dave McNicholl said: "This is a historic moment for Warrington Youth Zone as we take possession of the land. I want to thank everyone who is supporting this development through making generous contributions towards our construction and running costs – you are turning a dream into a reality. It's also fantastic to know that over 7,000 young people are already having their say on their Youth Zone."
Located centrally, in the Stadium Quarter next to the UTC, the Youth Zone will become home to Warrington Youth Club (est. 1952), an existing well-respected youth charity, who currently operate their main club from smaller facilities on the outskirts of the town, four nights a week. The new state-of-the-art Youth Zone will open seven days a week offering over 20 activities at every session; providing a safe and inspiring place for young people to develop new skills, realise their talents and achieve their goals. 
For just 50p per visit, the Youth Zone, which is being developed by the national charity OnSide Youth Zones, will offer its members access to an indoor climbing wall, 3G kick pitch, a training kitchen, fully equipped gym, dance and drama studio, music room with recording studios and radio booth, a boxing gym, four court sports hall and much more. 
The Young People's Development Group presented their logo at a celebration on the land, provided by Warrington Borough Council, where the state-of-the-art Youth Zone will be built over the next year.
Warrington Youth Zone Young People's Development Group member Ben Lucas, 14, said: "I've really enjoyed being in the Development group and my favourite part was working with the design agency. We have managed to consult with over 7,700 young people and I can't wait for the new Youth Zone to be built. Being part of the group has enabled me to make new friends and I really enjoy spending time with them but it will be unbelievable to have a skatepark as there's not many around."
Based on the successful OnSideYouth Zones model, Warrington Youth Zone expects to reach over 5,000 young people aged 7-19, and up to 25 for those with additional needs, within 12 months of opening. 
Warrington Borough Council Leader Cllr Russ Bowden said: "Acquiring the land to start developing the new Youth Zone building is a major step in ensuring our young people have somewhere safe and exciting to spend their time. This administration has long supported the development of this new Youth Zone and we're committed to giving our young people as many opportunities as possible to gain confidence, learn different skills and meet new people. This is a groundbreaking scheme and something we are very proud to support."
To find out more about supporting Warrington Youth Zone, please contact Lisa Hannah-Stewart at:lisa.hannah-stewart@onsideyouthzones.org.